Welcome to Tarrytown

Austin's most prestigious area of secluded, suburban living with downtown address benefits
West of the MoPac Expressway near Downtown Austin, Tarrytown is a highly affluent and prestigious residential neighborhood located within the coveted 78702 zip code. The lush, tree-lined streets of this quiet and inviting area boasts a trove of charming treasures and iconic landmarks—from Tarrytown Center and the beloved and historic Tarrytown Pharmacy, to an historic golf course, spring-fed pool, and a 23-acre nature preserve where peacocks can be found roaming. Swimming pools, hiking and biking trails, and a variety of community parks and recreational areas are all accessible to Tarrytown residents—with proximity to Lake Austin offering fishing, boating, paddleboarding, and kayaking.

Tarrytown is conveniently located three miles west of Downtown Austin and the acclaimed University of Texas, with homes running east to west from the MoPac Expressway to Lake Austin—and is serviced by two Capital Metro bus routes. Median sales price for luxury real estate in the area falls around $1.2m+, and Tarrytown homes reflect a range of dynamic architectural styles set along beautiful oak tree-canopied streets—from charming 1920s era cottages, opulent Victorian-style mansions, beautiful mid-century modern mini-mansions, Italianate-style villas, and multi-story modern-contemporary condos.
What to Love
Ideal location to Downtown Austin and University of Texas
Top-tier school system and quality education
Historic, affluent, charming suburban neighborhoods
Enchanting scenery with a natural feel and charming community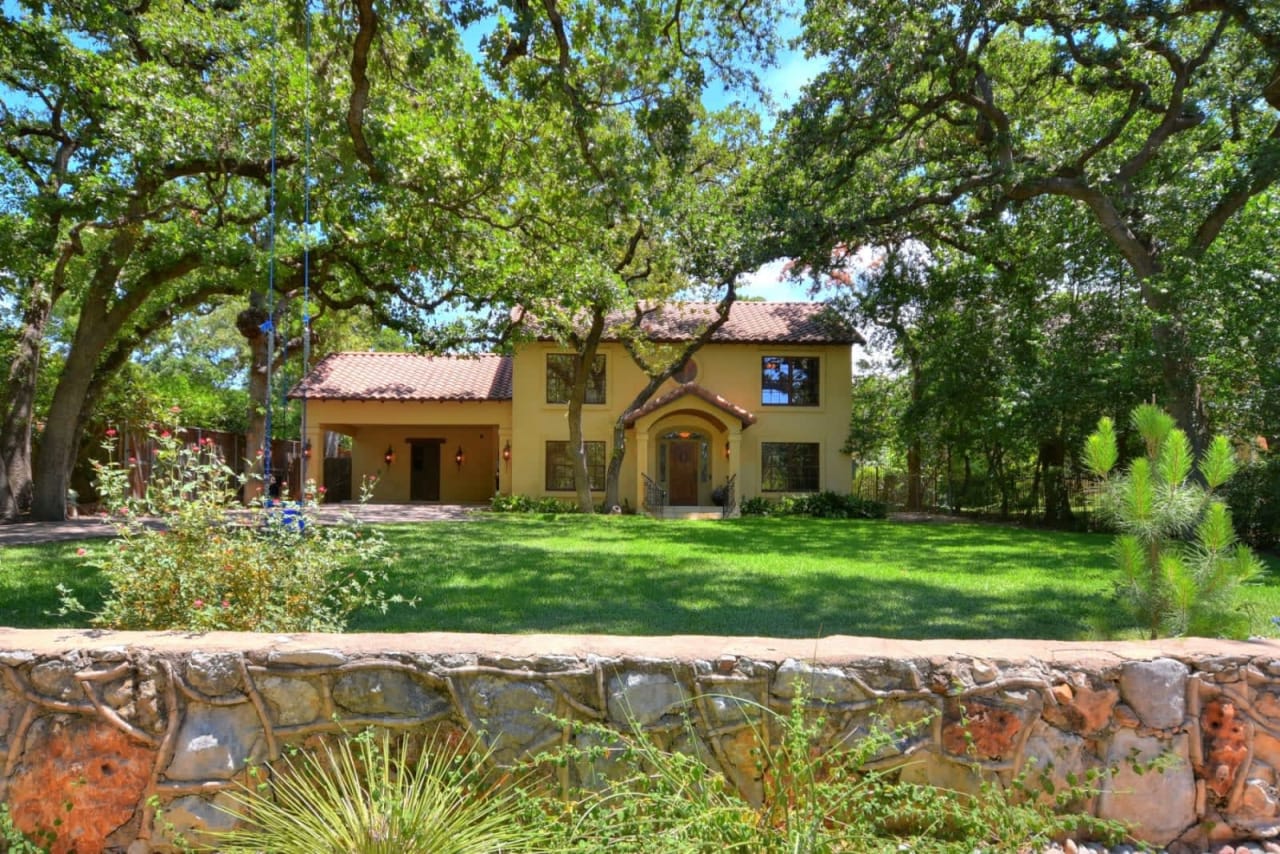 People & Lifestyle
Tarrytown is a cherished community that is both quaint and upscale, eclectic and charming at the same time. It's almost entirely residential, with a small centralized strip of local and historic shops, and the town's affluent community is largely composed of professionals and families of every generation, along with a smattering of family-friendly UT grad students. The quiet lifestyle Tarrytown residents enjoy is one of immediate access to every need and the unassuming prestige of living in one of the most visually appealing areas of Austin—though the town's residents are unpretentious, casually welcoming, and charmingly friendly.
Dining, Entertainment & Shopping
The nightlife scene in Tarrytown is relatively low-key—with an array of elegant restaurants and late-night coffee shops to choose from. However, the nearby University of Texas at Austin and Downtown Austin provide a diverse range of activities to enjoy:
: A must-experience hidden gem located on the roof of the student center. Best seen at sunset for the light sequence this incredible space offers, the Turrell Skyspace experience is about an hour and a half in total.


: This university art museum boasts a spectacular collection of 20th-century American masters and holds the largest collection of Latin American art in the country.


: You'll find five generations of Southern decadence at this downtown must-try restaurant. Along with their array of traditional and modern Southern dishes to choose from, an off-menu must-try item (that you now know about) are their biscuits.


: There are simply too many mouthwatering cuisine options to choose from in Downtown Austin. This organized, non-touristy event is a three-hour showcase of quintessential Austin by indulging your taste buds in the most iconic dishes Downtown Austin has to offer to new Austinites and longtime Tarrytown residents alike.​​​​
serves traditional Tex-Mex cuisine with a Polynesian twist. Tacos, fajitas, and luau platters paired with tropical cocktails under a thatched-roof pier with lake views offers residents of Tarrytown a little slice of paradise overlooking Lake Austin.
A casual, local haunt for breakfast, though open around-the=clock with Tex-Mex and American roadside staples as well, is a literal "all things to all people" restaurant. Whether you're ordering pancakes for a family breakfast, a vegetable plate in the middle of the workday, or binging on one of seven burgers to choose from after a night on the town—Magnolia's menu is huge, fresh, and consistently tasty.
Things to Do
is a popular fishing and boating destination for residents of Tarrytown. Numerous companies rent out sailboats, motorboats, canoes, pontoon boats, and large party boats—and the Austin Parks and Recreation Department offers classes in canoeing, kayaking, and sailing. The lake is stocked with several species of fish available for recreational fishing—and is considered to have an excellent stock of largemouth bass.
Deep Eddy is a historic, 600,000 gallon, freshwater man-made pool in Austin and the oldest swimming pool in Texas. It features a beautiful bathhouse built during the Depression-era and family-friendly activities such as a Float-In movie series that starts at sundown in the summer.
Tarrytown is near "Austin's most-loved park," —a 351-acre metropolitan park that is home to Barton Springs Pool, the Austin City Limits Music Festival, Blues on the Green, and so, so much more. The park also boasts hiking and biking trails, sports fields, The Austin Nature and Science Centre, a botanical garden, and off-leash dog areas to enjoy. Also nearby is , also known as Covert Park. It's a prominent point alongside Lake Austin and a popular tourist destination since the mid-1800s with a summit that gives sweeping views of the lake and Downtown Austin.
Once known as the Mayfield-Gutsch Estate, is a historic cottage, gardens, and nature preserve located on a bluff overlooking Lake Austin. Built in the 1870s, stepping into the park is like stepping into a tranquil oasis separated from time. Lush gardens and brilliant peacocks surround lily and koi fish-filled ponds nestled among this 23-acre park.
Schools
Tarrytown public schools are zoned within the Austin Independent School District, along with an array of top-tier private schools accessible to the area.