Welcome to West Lake Hills/Rollingwood

Prime real estate in sophisticated neighborhoods with small-town, close-knit community feeling
West Lake Hills and Rollingwood are two of the most highly sought-after areas of prime real estate in Austin, Texas. Both well-established communities offer sophisticated, upscale neighborhoods with a rural, close-knit, small-town feeling. Living in either town offers no shortage of natural beauty—West Lake Hills sits on the hilltops, affording residents spectacular views of both Downtown Austin and the edges of the Hill Country, while Rollingwood's rolling hills landscape is dotted with majestic shade trees and lush garden beds. Some of their respective neighborhoods are gated, adding an additional sense of privacy and security to these already safe neighborhoods. The highly desirable Eanes School District, along with an abundance of outdoor recreation opportunities, is just part of what earned their reputations as two of the best suburbs in Texas.

Both towns are highly desirable due in part to their location bordering Lake Austin. Respectively serviced by Highway 360 and Mopac Expressway/Tx-1 Loop, West Lake Hills and Rollingwood are both in close proximity to the heart of Downtown Austin—providing access to a broad spectrum of dining, entertainment, and shopping options, as well as an easy commute to and from work. Architectural styles of every type influence the luxurious homes that reside in either community—from traditional ranch-style homes that embrace the rural elements of the area and sport extensive decking and patios, to more contemporary mid-century modern mansions and expansive, breathtaking Tuscan-style villas.
What to Love

Ideal proximity to Downtown Austin
Variety of luxury home aesthetic styles
Upscale neighborhoods with a rural, small-town feel
Landscapes of natural beauty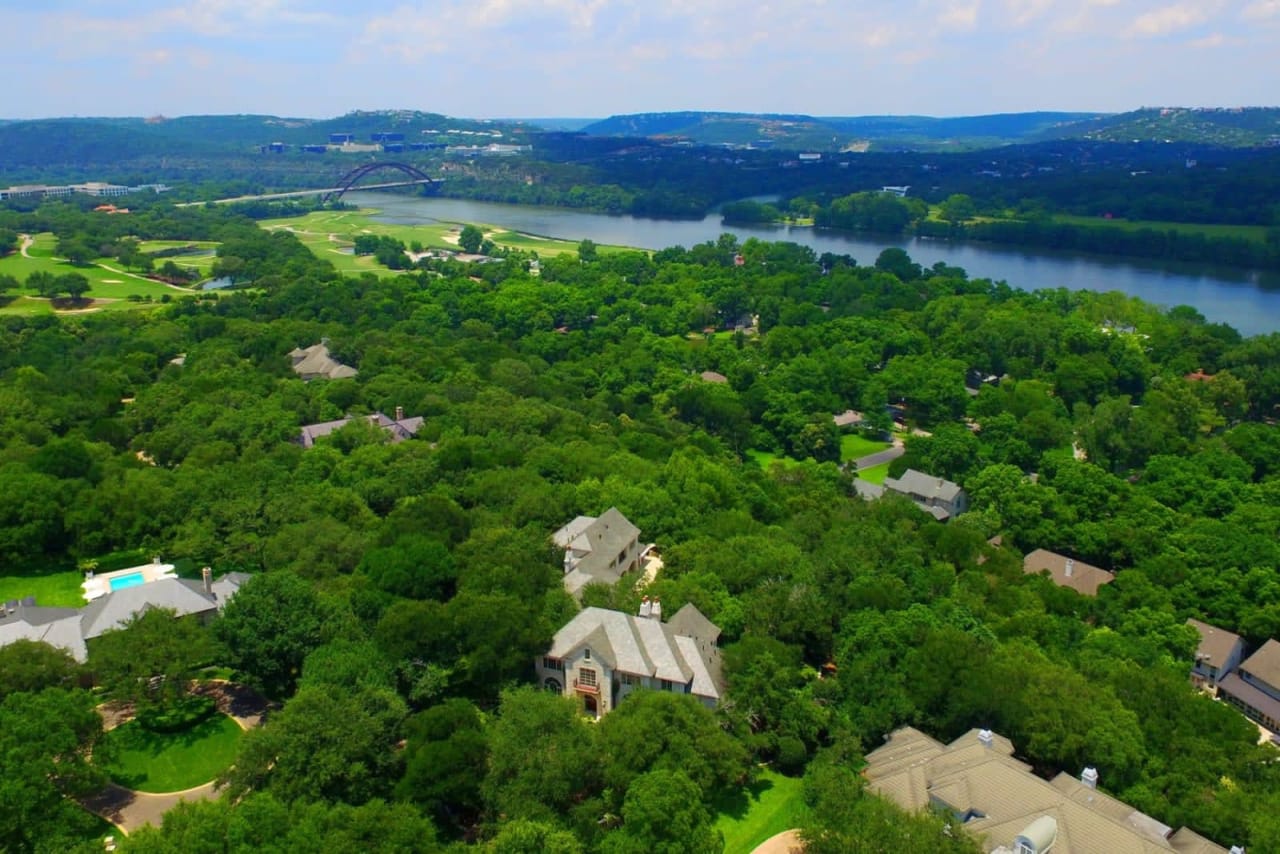 People & Lifestyle

The neighborhoods of West Lake Hills and Rollingwood are affluent and conservative, yet friendly and welcoming. Both towns are walkable and safe, with an abundance of restaurants, coffee shops, and parks—however, their proximity to Downtown Austin allows for a blended urban-commuter and upscale small-town lifestyle. Top-of-the-line schools, breathtaking scenery, and a wide array of outdoor recreation make both areas go-to spots for families with children, new Austinites, and working professionals who commute to Downtown Austin.
Dining, Entertainment & Shopping

The is the expansive home to Austin's most admired specialty retailers— with a wide variety of delicious restaurants to enjoy as well. It's a one-stop-for-everything destination for West Lake Hills residents, as the center is anchored by HEB and Gold's Gym and features dry cleaning and banking services as well.

Just minutes away from West Lake Hills and Rollingwood is —one of the Austin Metro Area's largest indoor shopping and entertainment centers, featuring over 180 specialty shops and delectable dining options set within a vibrant, sleek, and contemporary atmosphere. The Square's DWELL by Circuit of the Americas features a community gathering space with lounge seating areas, televisions, workspaces, and electronics charging stations— making it a dynamic place to rest, socialize, and work as well as shop.

is an award-winning restaurant that offers signature modern Thai cuisine set within a beautiful garden courtyard and communal dining space with an open kitchen. The restaurant's covered rooftop bar offers patrons sweeping views of Downtown Austin.

Light bites, tartines, and big plates of European-style fare served in a casual atmosphere among the beauty of a garden-like patio. That's what you'll experience at . Whether stopping for a coffee and a Belgian waffle or savoring a delectable tartine, this cozy European bistro is the perfect spot to catch up with neighbors on a lazy weekend day.
Things to Do

is just a short drive's distance from West Lake Hills and Rollingwood and is a popular summertime spot for hiking, swimming, mountain biking, rock climbing, and bird watching. With multiple access points along the creek, the greenbelt contains 12.69 miles of gorgeous trails, with the main trail spanning approximately seven miles. Sheer limestone cliff walls, dense lush greens, abundant wildlife, and several areas for swimming make this greenbelt a treasure for outdoor enthusiasts to visit.

is a popular fishing and boating destination for residents of West Lake Hills and Rollingwood. Numerous companies rent out sailboats, motorboats, canoes, pontoon boats, and large party boats—and the Austin Parks and Recreation Department offers classes in canoeing, kayaking, and sailing. The lake is stocked with several species of fish available for recreational fishing—and is considered to have an excellent stock of largemouth bass.

"Austin's most-loved park," is a 351-acre metropolitan park that is home to Barton Springs Pool, the Austin City Limits Music Festival, Blues on the Green, and so, so much more. The park also boasts hiking and biking trails, sports fields, The Austin Nature and Science Centre, a botanical garden, and off-leash dog areas to enjoy.

is a 227-acre habitat of native Hill Country hiking trails and wildlife. The entrance to the preserve is located about a mile north of Bee Caves Road along the east side of Loop 360, and the Wild Basin Creative Research Visitor Center is open weekdays from 9AM to 4PM. The center hosts guided hikes for school and scout groups, as well as self-guided hiking and trail guide training programs.
Schools

West Lake Hills and Rollingwood are zoned within the reputable Eanes Independent School.

Highlights include:

Eanes Elementary, Public, PK-5
Hill Country Middle School, Public, 6-8
Westlake High School, Public, 9-12